Packaging where nothing sticks
Shaking and tapping is often the only way to get the last drop of ketchup out of the bottle. But in future, even this final drop will slide out easily onto the barbecued steak – thanks to a special coating on the packaging.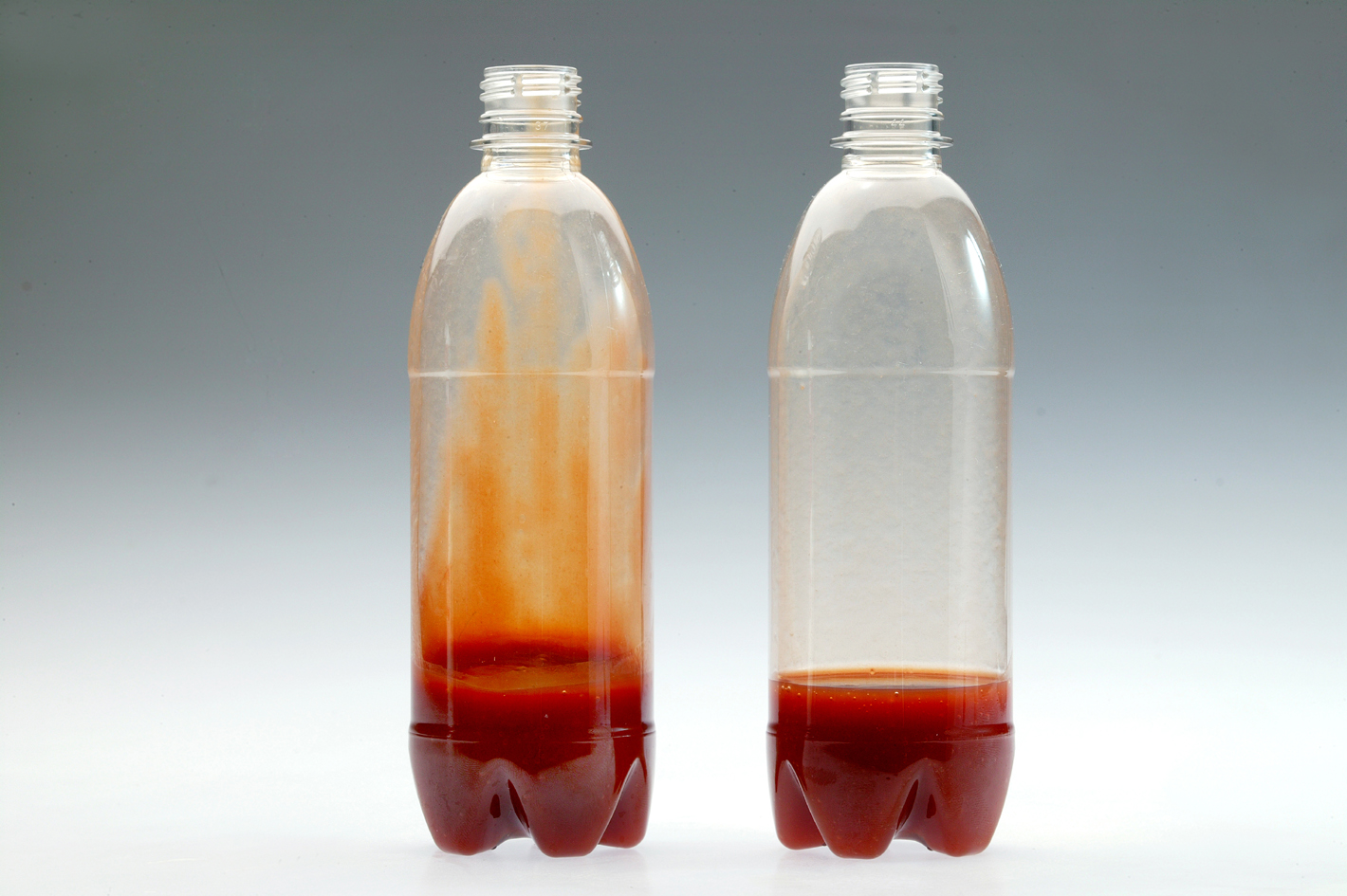 We all know the problem with ketchup or mayonnaise: No matter how we shake or tap the bottle, some of the content refuses to come out. In some cases, up to 20 percent is left in the packaging when it is dumped in the trash can. This is not only annoying for consumers, but also poses difficulties when recycling: The leftovers first have to be removed from the packaging, which is expensive, time-consuming, and uses a great deal of water. If the products in question are pharmaceuticals, chemicals or pesticides, the rinsed-out leftovers also have to be disposed of in a suitable manner.
A joint project by the Fraunhofer Institutes for Process Engineering and Packaging IVV in Freising and for Interfacial Engineering and Biotechnology IGB in Stuttgart, together with Munich University of Technology and various industrial partners, sponsored by the BMBF, will put an end to this dilemma. "We are developing packaging materials that reduce left-over traces to half or less," says Dr. Cornelia Stramm, head of the Functional Films business field at the IVV. The researchers apply thin films, no more than 20 nanometers thick, to the inside surface of the packaging. "We make the coatings from a plasma of the type already familiar from neon lamps," explains IGB scientist Dr. Michaela Müller. "It is done by placing the plastics into a vacuum. We introduce gases into this vacuum chamber and ignite them by applying a voltage. We can deposit different coatings with defined properties on the surface of the packaging, depending on the proportions of electrons, ions, neutrons and photons in this luminous gas mixture." The first samples of this new packaging already exist: They will be presented to the public for the first time at K2007, the international trade fair for plastics and rubber, to be held in Düsseldorf on October 24 through 31 (Stand E91, Hall 3).
The research scientists at the IGB are now working to optimize the coatings applied – improving properties such as adhesive strength. "The coatings must not change the properties of the materials. They must remain capable of being industrially processed to form bottles, tubes, or stand-up pouches of the kind typically used for liquid soap," insists Müller. Her fellow scientists at the IVV are taking a closer look at the coatings produced: How resistant are they to mechanical stress? How do they react to temperature fluctuations, or to contact with acids and alkalis? In about two to three years, Stramm hopes, the bottles could be freely yielding their last drop of ketchup to consumers.