Major research center for water, energy and food proposed for Lusatia
Future factory Lusatia: answers to the global resource hunger
A strong alliance of Saxon scientific institutions, with numerous supporters from business and the region, wants to find groundbreaking solutions to challenges that are on the global agenda and are also particularly visible in the Saxon coal-mining region in the new "Future Factory Lusatia". The project partners are proposing a large-scale research center to the German Federal Ministry of Education and Research (BMBF), in which interdisciplinary teams will combine modern technologies and circular economy principles on a realistic scale to drastically reduce the consumption of water, energy and usable land.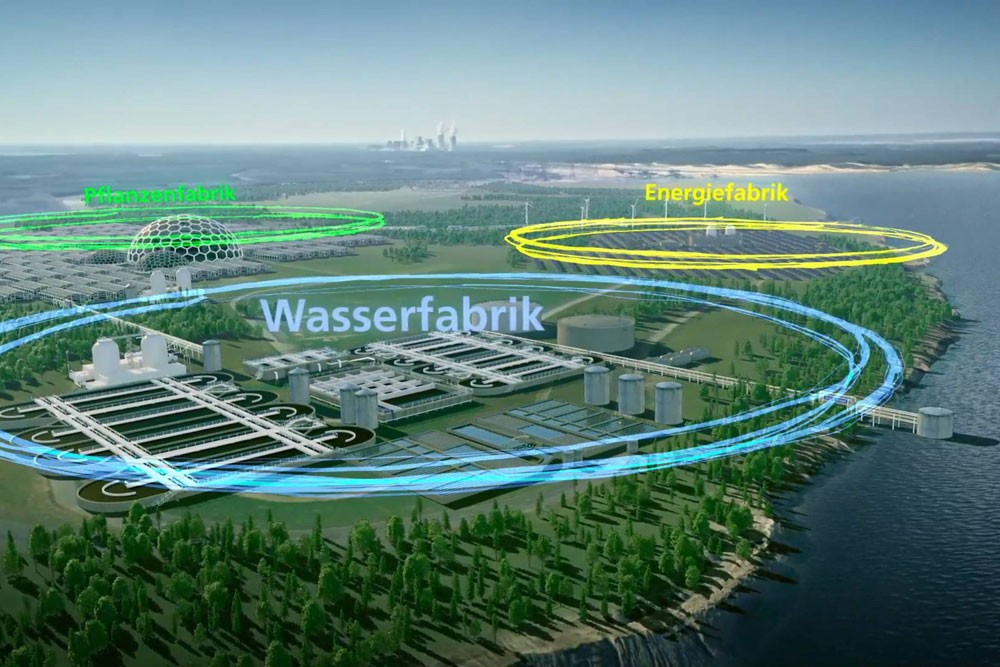 The Fraunhofer-Gesellschaft, the Technical Universities of Dresden and Freiberg, the Dresden University of Applied Sciences and the Zittau/Görlitz University of Applied Sciences have joined forces to form a consortium for the "Future Factory Lusatia", which has already found more than 40 supporters from industry, research, federations and Lusatian municipalities. The concept submitted under the leadership of Fraunhofer to the BMBF contest "Knowledge creates perspectives for the region!" advocates the establishment of a large-scale research center "WE2T-Transfer – Future Factory Lusatia – Research and Transfer Center for Water, Energy and Food Technologies" with 1500 direct jobs and an annual budget of 170 million euros in Saxony's Lusatia region.


Unique research infrastructures with international impact
"The topic of resource-efficient water use with its implications for the climate-neutral energy and food economy will become the core topic of the 21st century. The "Future Factory Lusatia" proposed by our consortium of industry and research will have international appeal and develop disruptive technologies that will help to sustainably supply a world population of over eight billion people," explains Prof. Alexander Michaelis, institute director at Fraunhofer IKTS and coordinator of the "Future Factory Lusatia" initiative.

Water, energy and plants: Three factories in one
In order to find exemplary solutions that can be transferred internationally, the "Future Factory Lusatia" must cover the entire chain from basic research to transfer into practice on a large scale. Three thematically linked sub-factories with state-of-the-art research infrastructures are planned for this purpose:
In the "water factory", research teams and companies want to test new concepts for wastewater treatment on large-scale plants, for example. "Today's wastewater plants destroy resources instead of utilizing them," say Fraunhofer researchers Dr. Ursula Schließmann and Dr. Burkhardt Faßauer, explaining one of the projects. "We want to turn this principle around and extract energy and valuable materials – for fertilizer, for example – from wastewater."
The "plant factory" next door can then use this energy and materials to fertilize and heat exploratory high-tech greenhouses based on the "vertical farming" principle. Extremely water-saving agricultural technologies are also to be tested here.
The "energy factory" in turn supplies the other two factories with electricity and heat from renewable energies – for example, through particularly efficient high-temperature fuel cells and hydrogen co-generation units. Their interaction with modern energy storage systems will be tested and a bridge built to the future hydrogen economy.
The project partners predict: If companies, farmers and communities consistently use these interlinked resource technologies, enormous ecological and economic effects can be expected.

Up to 5000 new jobs expected in the region
The "Lusatia Challenges" are another building block for the future factory: regularly announced scientific and economic contests are to attract ambitious researchers from all over the world to Lusatia in the future. The envisaged "Experience Center" will also be a tourist attraction: In this transparent laboratory, visitors will be able to get an idea of what it is like to work in the future factory, and school classes will be able to experiment for themselves with novel water, energy and agricultural technologies.
The large-scale research center is also expected to have considerable regional effects. In addition to the 1500 jobs in the future factory, experience shows that two to three times as many jobs will be created in the surrounding area, triggering an influx of 4000 to 5000 people.
The BMBF is expected to announce in the third quarter of 2021 which of the concept sketches submitted in the competition "Knowledge creates perspectives for the region!" will ultimately be selected.