Adaption to climate change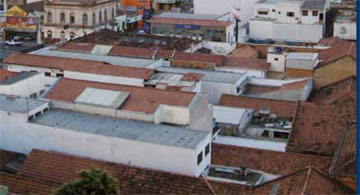 Due to climate change, the frequency of heavy rainfall events with sometimes devastating floods has increased in recent decades, as have droughts. It is high time to prepare cities for the effects of climate change.
Urban hydrological cycles not designed to extreme weather situations
Until now, urban districts have been highly compressed, rainwater on roofs, streets and squares cannot seep away. Instead, the majority of it flows into the sewerage system. Being designed first and foremost for wastewater, though, this system is quickly overloaded by heavy rain. Consequently, roads and basements become flooded. In dry spells too, introducing rainwater into the sewerage system proves inefficient.