Reduction of microalgae harvesting costs via the development of an ultrasound flow cell for the concentration of microalgae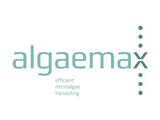 The worldwide production of microalgae is currently around 5,000 tons per year of dry algal biomass, and is used for livestock feed, fish meal, and high value extracts for dietary supplements, functional foods, cosmetics and pharmaceuticals. Microalgae can contain up to 30 percent by weight of lipids/oil, and are regarded as a highly promising feedstock for biofuels, primarily biodiesel.
Microalgae are commercially grown in open ponds or bioreactors, and then harvested using a centrifuge separator. The centrifuge step is highly energy intensive, due to the properties of the microalgae and their low concentration in the growing medium (water), and represents a major obstacle to the economic viability of microalgae biodiesel production. The capital investment required for the centrifuge is also a barrier for widespread SME entry to the sector.
To address this problem, the ALGAEMAX consortium is working on the development and demonstration of an innovative and cost-effective ultrasonic flow cell to concentrate microalgae with the aim of significantly reducing the energy costs of the centrifuges.