Indications and market value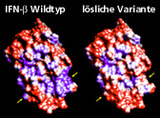 With the indication of multiple sclerosis, interferon-beta (IFN-beta) possesses an increasing market value of over two billion US Dollars. The hydrophobicity of the human interferon-beta molecule however is unwanted both in terms of technical and pharmaceutical aspects. The resultant strong tendency of aggregation for example forces a high technical expenditure for the preparation of the protein in a pure state and affects yield, formulation, stability and bioavailability.
Therefore, at Fraunhofer IGB we have genetically engineered an IFN-beta variant with 9 hydrophobic amino acids substituted by a hydrophilic one which is better soluble (Figure 1) and possesses a higher bioavailability (Figure 3). The following amino acids were substituted by serine: Leu5, Phe8, Cys17, Leu47, Phe50, Leu106, Phe111, Leu116, and Leu120.