Integrated chemical-biotechnological production of synthetic building blocks based on renewable raw materials in a biorefinery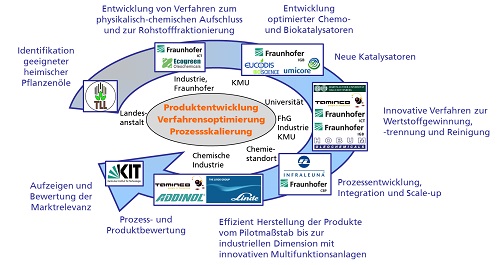 The joint project "Integrated Bioproduction" headed by Dr.-Ing. Susanne Zibek (Department of Molecular Biotechnology, Industrial Biotechnology Group of Fraunhofer IGB) is based on the vision of "Integrated joint production based on renewable resources" and the continuous development from laboratory to production scale. This approach is novel and has not yet been realized. Research activities focus on increasing the use of renewable raw materials, especially domestic vegetable oils, for the production of synthetic building blocks for the chemical industry using chemical and biotechnological conversion methods. The concept is implemented by an interdisciplinary research network with 14 project partners (Fig. 1) in cooperation with an integrated chemical network site and considers processes along the entire value-added chain from the raw material vegetable oil, its processing and conversion into synthetic building blocks to the use of the synthetic building blocks in product groups such as polymers, lubricants, surface-active substances or flocculation aids.

In the first project phase (3 years) relevant vegetable oils were selected and evaluated, chemical and biotechnological conversion processes were investigated on a laboratory scale and suitable catalysts were identified.

In the second funding phase (2 years), the focus was on the optimisation and scaling of selected processes to production scale and an application-oriented investigation of the synthesis building blocks in different product groups. Finally, an economic, ecological and social process evaluation including raw material and product evaluation is to be carried out.

The Industrial Biotechnology Group of the Fraunhofer IGB, in collaboration with various partners, has been working on the enzyme-catalyzed epoxidation of various vegetable oils and vegetable oil derivatives and on the microbial synthesis of long-chain dicarboxylic acid from fatty acids using modified microorganisms of the genus Candida. For further information please refer to our research topics and especially to the article Bi- and polyfunctional synthetic building blocks based on vegetable oils.