Digestion of lignocellulosic raw materials and complete material utilization of the components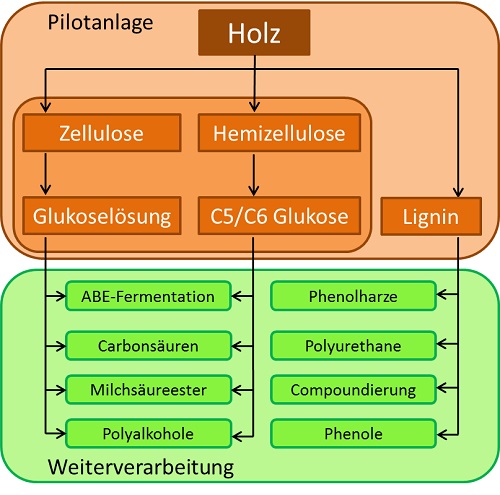 The aim of this project, under the direction of DECHEMA, was to develop and establish a process for the complete material use of all components of lignocellulose by obtaining bio-based products based on cellulose, hemicellulose and lignin within a biorefinery.

The project pursued the development, construction, commissioning and optimisation of a pilot plant for the OrganoSolv digestion of lignocellulose on the one hand and the provision of the fractions (C5 and C6 sugar from cellulose and hemicelluloses, sulphur-free lignin) from the digestion and their further processing into higher-value products on the other hand.

Work has been carried out on increasing the scale of the digestion, component separation and fibre hydrolysis, and in parallel the construction of the pilot plant has been pushed ahead. In addition, value chains for the sugar fractions were developed. Various fermentations, but also chemical modifications, were tested here. The investigations served to prove the suitability of the sugar fractions obtained from digestion and hydrolysis for the selected applications. Through close feedback with the process development of lignocellulose digestion, the refining steps could be further optimized.

The utilization of the lignin fraction was a particular focus of the project, since the economic efficiency of the plant depends on the value added of the lignin fraction. Various thermo- and duroplastic applications were tested here, which can be used without further modification or refining of the lignin fraction. In order to be able to expand the range of applications in this area, lignin modifications were also carried out. Further physicochemical and biotechnological processes were tested to make lignin monomers usable as platform chemicals or catalysts in the chemical industry.

Accompanying the laboratory tests, key economic and ecological parameters of a lignocellulose biorefinery were identified and a large-scale implementation concept was evaluated under the aspect of sustainability.

Fraunhofer IGB worked within this project on the optimization and scale-up of the enzymatic hydrolysis of the cellulose fiber fraction. Furthermore, work was carried out on the utilization of the C4/C6 sugar fraction via lactic acid and homoacetate fermentation (IGB) as well as on the utilization of the lignin fraction via degradation and functionalization of lignin by means of oxidoreductases.