Functionalized lignin cleavage products as synthesis building blocks for the production of adhesives, coatings, polyurethanes and epoxides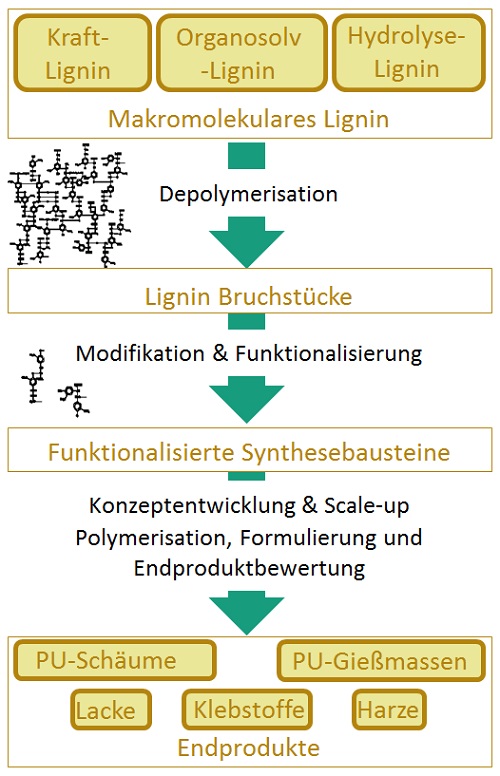 The aim of the Lignoplast project, led by the Fraunhofer Center for Chemical-Biotechnological Processes (CBP), is the development of adhesives, coatings, polyurethanes and epoxides based on chemically and enzymatically modified lignins.

Most of the lignin, which is the largest natural source of aromatics and about 30 percent of the lignocellulose biomass, is used energetically, which is the least added value. So far, the raw material lignin is only used in niche products to a limited extent (e.g. as a concrete additive). By selective depolymerisation of the macromolecular lignin and a targeted modification or functionalisation, a broad spectrum of "green" product classes can be developed. Thus, in addition to a direct substitution of phenol, a use in higher-priced applications is also feasible.

The focus of this project is on the development of innovative processes for the production of aromatic synthetic building blocks from various lignin types. As raw materials, different technical lignins from pulp production, such as kraft lignin, on the one hand, and lignins from "biorefinery processes", such as organosolv lignin and hydrolysis lignins, on the other hand, are used. The synthesis building blocks are obtained by degradation of the macromolecular structure of the lignins and the subsequent targeted chemical and enzymatic functionalisation. The structure of the synthesis building blocks is thus adapted to the requirements of the addressed products. Another focus is the formulation of these new adhesives, coatings, polyurethanes and epoxies and their use in materials and components. These products are characterized in terms of application technology and compared with conventional systems.

Within this project, the Industrial Biotechnology Group of the Fraunhofer IGB is working on the functionalization of lignin fragments using oxidative enzymes such as laccases and peroxidases. Furthermore, in cooperation with the Institute for Interfacial Engineering and Plasma Technology IGVP of the University of Stuttgart, work is being carried out on the development of new bacterial enzymes for the targeted modification of lignin derivatives.