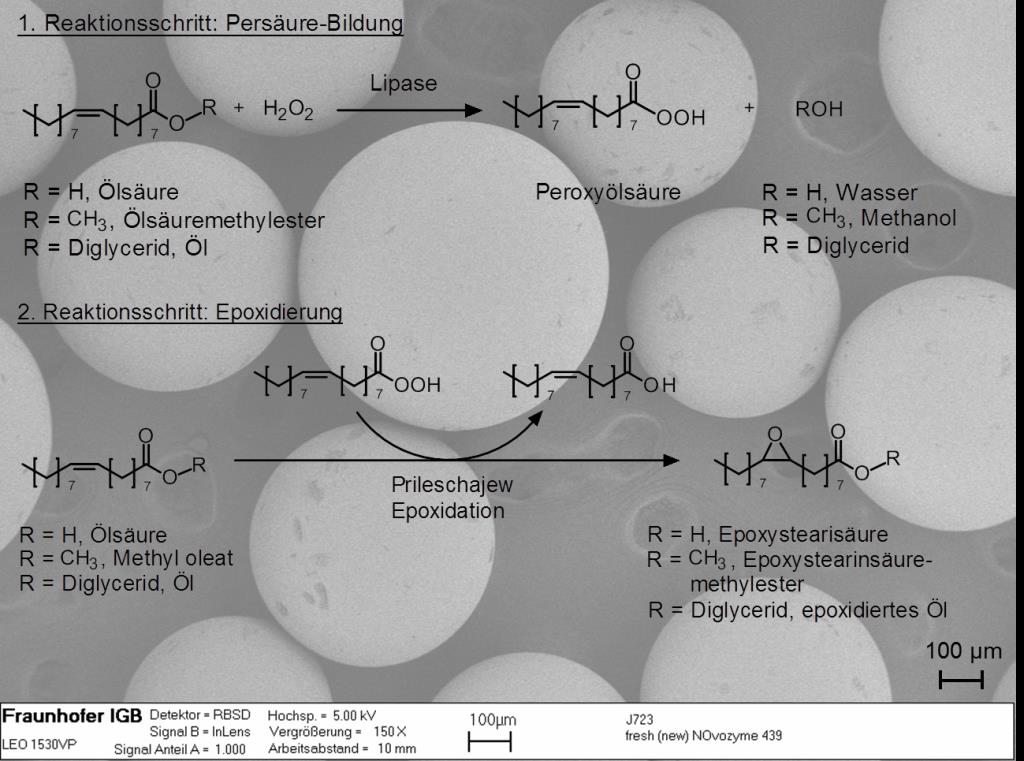 Application and production of plant epoxides
The epoxidation of unsaturated fatty acids and triglycerides produces products with increased polarity and reactivity. Vegetable oil-based epoxides are mostly chemically produced on an industrial scale from soy oil. They can be used as PVC stabilizers, plasticizers, for the synthesis of biobased resins and coatings or, after further conversion, as components of lubricant formulations. Epoxidation takes place via the so-called Prileschajew reaction, in which olefinic double bonds of the unsaturated fatty acids are converted to epoxy (oxirane) by peracid. Peracid formation often occurs in situ by reaction of hydrogen peroxide with acetic or formic acid using strong mineral acids, for example sulfuric acid, or ion exchange resins as catalyst. In the chemical conversion process control is particularly problematic due to a strongly exothermic reaction, strongly acidic reaction conditions and associated side reactions as well as high salt production during product processing.
An alternative to this chemical process is chemo-enzymatic epoxidation, in which a lipase enzymatically catalyses the formation of peracid from fatty acid and hydrogen peroxide. The main advantages are milder process conditions and greater selectivity in implementation. Undesirable ring opening reactions occurring in the chemical method can be avoided as far as possible in the chemo-enzymatic process.